Mr Ben Spiegelberg
Consultant Trauma and Orthopaedic Surgeon MBBS, BSc, MSc, FRCS (Tr&Orth)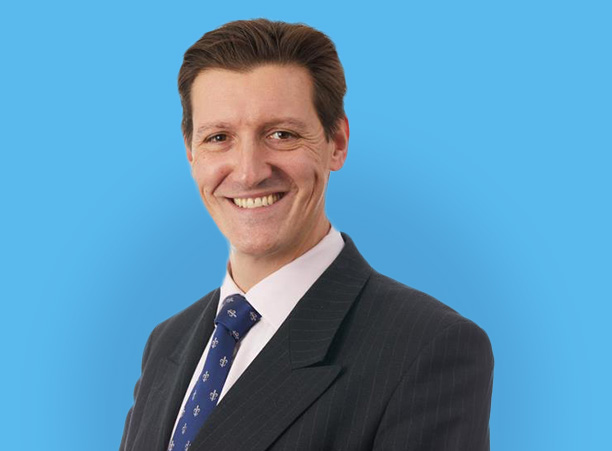 I am a Trauma and Orthopaedic specialist with a specific interest in the treatment of adult hip and knee conditions.
I qualified from St. Mary's Medical School, Paddington in 2004 and spent my junior years of surgical training within London. I was then selected for Specialist Registrar Orthopaedic training at Guy's and St.Thomas' Hospital and then on the Oxford Orthopaedic registrar rotation centred at Oxford University. Following this I travelled to Canada with my family to spend a year in London, Ontario on the internationally renowned University of Western Ontario Adult Reconstruction Fellowship program. On return from fellowship I was appointed Consultant at West Hertfordshire Hospitals NHS Trust.
I see and treat acute trauma injuries and my elective practice focuses on surgery of the hip and knee. I am experienced in treating cartilage and meniscal injuries of the knee and the management of early and advanced osteoarthritis including partial, total knee replacements, robotic assisted knee replacements and revision knee replacement. My hip practice focuses on total hip replacement surgery and revision total hip surgery.
I am a determined person with a passion, enthusiasm and dedication for my speciality and my patients. I bring this into the workplace by enhancing my teamworking skills to ensure that optimal patient satisfaction and outcomes are achieved. I treat all patients with respect, dignity and empathy enabling them to feel involved in the decision-making process and understand the treatment options being proposed to them.
BGI Spiegelberg, BA Lanting, JL Howard, MG Teeter, DR Naudie. Surface Integrity of polyethylene liners following trunnionosis of a dual modular neck total hip implant. Hip Int. 2018 PMID 29756511
H Pandit, BGI Spiegelberg, A Clave, C McGrath, AD Liddle, DW Murray. Aetiology of lateral progression of arthritis following Oxford medial unicompartmental knee replacement: a case-control study. Musculoskeletal Surgery 2016 PMID 26810974
BGI Spiegelberg, ND Riley, GJ Taylor. Risk of injury to the axillary nerve following antegrade proximal humeral blade nail fixation – an anatomical study. Injury 2014 45(8): 1185-1189. PMID: 24907010
A. Jalgaonkar, SJ Dawson-Bowling, AT Mohan, BGI Spiegelberg, A Saifuddin, R Pollock, JA Skinner, TWR Briggs, W Aston. Identification of the biopsy tract in musculoskeletal tumour surgery. Bone Joint J 2013 95-B: 250-253. PMID: 23365037
BGI Spiegelberg, MD Sewell, T Coltman, GW Blunn, AM Flanagan, SR Cannon, TWR Briggs. Below knee amputation through a prosthesis for recurrent tumour J Bone Joint Surg [Br] 2009 91-B: 815-819. PMID: 19483239
BGI Spiegelberg, MD Sewell, WJS Aston, GW Blunn, R Pollock, JA Skinner, SR Cannon, TWR Briggs. The early results of joint-sparing proximal tibial replacement for primary bone tumours, using extracortical plate fixation. J Bone Joint Surg [Br] 2009 91-B; 10: 1373-1377 PMID: 19794175
MD Sewell, BGI Spiegelberg, WJS Aston, SA Hanna, C Henry, JM Meswania, GW Blunn, SR Cannon, TWR Briggs. Non-invasive extendible endoprostheses for limb reconstruction in skeletally-mature patients. J Bone Joint Surg [Br] 2009 91-B; 10: 1360-1365 PMID: 19794173
AS Shekkeris, SA Hanna, MD Sewell, BGI Spiegelberg, WJS Aston, GW Blunn, SR Cannon, TWR Briggs. Endoprosthetic reconstruction of the distal tibia and ankle joint after resection of primary bone tumours. J Bone Joint Surg [Br] 2009 91-B; 10: 1378-1382 PMID: 19794176
MD Sewell, BGI Spiegelberg, WJS Aston, LA David, SA Hanna, W Bartlett, GW Blunn, SR Cannon, TWR Briggs. Total femoral endoprosthetic replacement following excision of bone tumours. J Bone Joint Surg [Br] 2009 91-B; 11: 1513-1520 PMID: 19880899
BGI Spiegelberg, MTR Parratt, WS Khan, R Jennings, DR Marsh. Ilizarov Principles of Deformity Correction. Ann R Coll Surg Engl. 2010 92; 2: 101-105
BGI Spiegelberg, K Gokaraju, MTR Parratt, AM Flanagan, SR Cannon, TWR Briggs. Late Recurrence of Pelvic Osteosarcoma: a case report and review of the literature. Grand Rounds 2010; 10: 8-12
Parratt MT, Gokaraju K, Spiegelberg BGI, Miles J, Cannon SR, Briggs TWR. Myolipoma affecting the erector spinae: a case report in a child. Case Report Med 2009 11 PMID: 19902012
Contributions to Oxford Textbook of Trauma and Orthopaedics – Benign Bone Tumours section
VA Patel, H Jefferis, BGI Spiegelberg, Q Iqbal, A Prabhudesai, S Harris. Jejunal diverticulosis is not always a silent spectator: A report of 4 cases and review of the literature. World J Gastroenterol. 2008. 14(38): 5916-5919. PMID: 18855994
BGI Spiegelberg, BA Lanting, JL Howard, MG Teeter, DR Naudie. Surface Integrity of polyethylene liners following trunnionosis of a dual modular neck total hip implant. BHS 2018
BGI Spiegelberg, N.Nizam, S.Michaels, B.Savill, N.Davies. Supracondylar fractures in children – Audit 2016. ROPOG 2016
M.Fullerton, BGI Spiegelberg, A Taylor, RA Buckingham. Removal of paediatric metalwork audit. ROPOG 2016
BGI Spiegelberg, B Kendrick, A Taylor, D Stubbs, P McLardy-Smith, R Gundle. Results of total hip arthroplasty following native hip joint infection. BHS 2016
B Spiegelberg, Nick Riley, Geoffrey Taylor. An Anatomical Study: Risk of Axillary Nerve Injury during Proximal Humeral Blade Nail Fixation. BOA 2013
B Spiegelberg, Nick Riley, Geoffrey Taylor. Risk of Axillary Nerve Injury during Proximal Humeral Blade Nail Fixation. BESS 2013
N Riley, B Spiegelberg, G Taylor. Early Results of Proximal Humeral Fracture Fixation with the Marquardt Proximal Humeral Locking Blade Nail. Duthie Day Registrar Presentation
B Spiegelberg, N Riley, G Taylor. An Anatomical Study: Risk of Axillary Nerve Injury during Proximal Humeral Blade Nail Fixation. Dutthie Day Registrar Presentation
BS Dhinsa, JR Perera, KR Gallagher, BGI Spiegelberg, S Hanna, R Pollock, SR Cannon, TWR Briggs. Metal ion levels and chromosome aberrations in metal-on-metal and metal-on-polyethylene total hip arthroplasty. BORS 2011
Preoperative biopsy tract identification using India ink skin tattoo in tumour surgery. A. Jalgaokar, BGI Spiegelberg, WJS Aston, R Pollock, SR Cannon, TWR Briggs. EFORT 2011
A Shekkeris, S Hanna, MD Sewell, BGI Spiegelberg, WJS Aston, GW Blunn, SR Cannon, TWR Briggs Endoprosthetic reconstruction of the distal tibia and ankle joint after resection of primary bone tumours. SICOT 2010
BGI Spiegelberg, MD Sewell, MTR Parratt, K Gokaraju, GW Blunn, SR Cannon, TWR Briggs. Limb salvage using joint sparing proximal tibial replacements for primary bone tumours. ISOLS 2009
BGI Spiegelberg, DH Park, PK Jaiswal, MTR Parratt, K Gokaraju, RC Pollock, JAM Skinner, SR Cannon, TWR Briggs. The use of massive endoprostheses for the treatment of bone metastases. ISOLS 2009
K Gokaraju, BGI Spiegelberg, MTR Parratt, J Miles, SR Cannon, TWR Briggs. Metal proximal radius endoprostheses - the stanmore experience ISOLS 2009
MD Sewell, BGI Spiegelberg, S Hanna, W Aston, SR Cannon TWR Briggs. Total femoral Endoprosthetic replacement for bone tumours. ISOLS 2009
MTR Parratt, J Miles, K Gokaraju, BGI Spiegelberg, RC Pollock, JA Skinner, SR Cannon, TWR Briggs, GW Blunn. Cementless fixation of distal femoral endoprostheses: the first fourteen years. BOOS 2009
Spiegelberg BGI, Hanna S, Tai S, Pollock R, Carrington R, Cannon S, Briggs TWR.Chromosome aberrations and metal ion levels in metal-on-metal total hip arthroplasties. Seddon Society 2009
Parratt MTR, Waters TS, Bentley G, Gokaraju K, Spiegelberg BGI, Carrington RWJ, Skinner JAM. To resurface or not? A medium term follow-up of bilateral total knee arthroplasty with patella resurfacing on one side only. Seddon Society 2009
Sewell MD, Spiegelberg BGI, Parratt MTR, Mcgrath A, Aston W, Hanna S, Cannon S, Briggs T. Distal tibial replacement combined with ankle joint replacement for bone tumours of the distal tibia. EFORT 2009
Spiegelberg BGI, Hanna SA, Tai S, Gokaraju K, Carrington R, Pollock R, Cannon SR, Briggs TWR. Metal ion levels and chromosome aberrations in metal-on-metal versus metal-on-polyethelyne total hip arthroplasties. BOA 2009
Spiegelberg BGI, Parratt MTR, Briggs TWR. What treatment can today's amputee expect? ITAP International Symposium 2009
Spiegelberg BGI. Metal ion levels and associated chromosome aberrations with MoM implants. Metal-on-Metal Speciality Day, Furlong Foundation 2009
Spiegelberg BGI, Briggs TWR. Avascular Necrosis of the Hip. BOA Instructional Course 2009
Hanna S, Spiegelberg BGI, Briggs TWR. Chromosome aberrations and blood metal ions MoP versus MoM articulations. AAOS 2009
Sewell MD, Spiegelberg BGI, Briggs TWR. Total Femoral Replacement for Bone Tumours – A 28 year experience. AAOS 2009
Spiegelberg BGI, Briggs TWR. Chromosome abnormality of metal on metal bearing surfaces. RCS Eng 2008
Sewell MD, Spiegelberg BGI, Aston WJ, Cannon SR, Briggs TWR. Total femoral endoprosthetic replacement for bone tumours – A 25 year experience. BOOS 2008